Long Beach Bayou & Blues Festival - "Flip, Flop & Fly"
Blue Dice "Highlights" @ oc fair 2021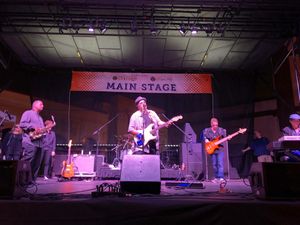 The Blue Dice Story
"In Southern California in January of 2000 guitarist-singer-songwriter Victor Paul Sanchez had a vision of a band that would take the blues to places it had never been. Eventually, he found other musicians who shared the same vision:  Jerry Caglese on drums/vocals, Greg Swanson on electric bass guitar, Johnny Savant on Hammond B-3 organ, electric piano, guitar and vocals, then we have aka: (JB) John R. Oldenbrook on Tenor SaX ,
Dr. Michael Duffy on Trumpet and  Flugelhorn and Jon Skovseth ON Baritone Sax. 

"Blue Dice" was born 21 years ago, this is the new 2021 incarnation of how my original music as grown since. I've been blessed with best musicians in Southern California, they bring my music to life. I owe it to them to try and keep writing good music from the heart, VP. 

This is a diverse group of musicians that combine 175 years of experience in all genres of music from Rock to Bach, but who play simply for the love of playing, Rock, Blues & Soul. Victor describes his original music as S.R.B..."Soulful Rockin' Blues". They also love playing Classic rock and Memphis Soul of the late 60's and early 70's, that's a real crowd pleaser too. This band has been together almost 21 years now and when you hear them, you'll know right away that Blue Dice is not your typical blues band.  They perform it all, from the Blues Classic's, to Classic Rock to Memphis Soul.                                                                                                 
 
You are visitor number: 3074